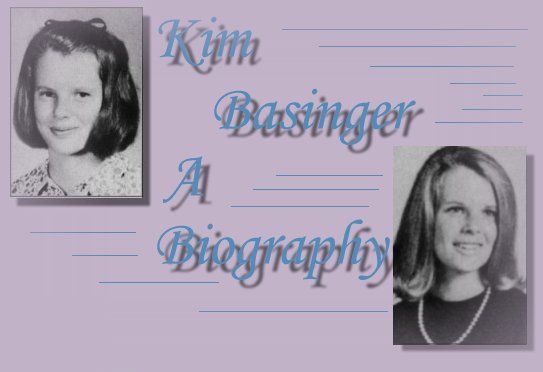 Kimberly Ann Basinger was born December 8, 1953 in Athens, Georgia. She grew up painfully shy, but still exceded as a cheerleader at Clarke Central High School
along with being a member of the Pep Club, Student Faculty Cooperative Assosciation, "A" Club and won many talent awards. and won the title of Miss. Junior Miss after singing "Wouldn't it Be Loverly" from My Fair Lady.
Kim graduated in 1971 and after only two years, left The University of Georgia to pursue an acting career.
---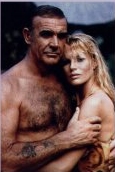 After working as a model, Kim appeared in her first film various television shows and some tv moves. Her first feature film was titled Hard Country in 1981.. Many more unforgettle films followed, which led up to the coveted role as a "Bond Girl" in Never Say Never Again in 1983.
---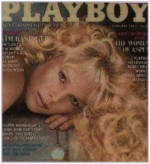 Also in 1983 Kim made the move that probably helped launch her career more then anyhing else, she posed for Playboy.

---
More movies followed and so did a marriage to Ron Britten, which ended in 1989, the same year Batman opened and made her a Superstar.
For awhile she was rumored to have been dating Prince, but that ended when she was cast with Alec Baldwin in "The Marrying Man." There was some attaractiion, but it wasn't until they day that Kim and Alec were driving to the set when Kim spotted an injured dog on the side of the road. Alec stopped the car and got the dog, taking it to the vet where it got patched up that Kim knew this was the man she wanted to spend the rest of her life with.
They married in late 1993 and their daughter Ireland Elise was born a year later.

---
Kim took time off from acting while raising her daughter, but returned to the screen in December 1997 in a knock-out performance as a hooker made to look like Veronica Lake in LA Confidential, in which she earned a Screen Actors Guild Award, a Golden Globe and the coveted Oscar for Best Supporting Actress. It was about time she got one of those little gold men:)
---
Once again Kim took a break from acting; I Dreamed Of Africa opened in the spring of 2000. Kim played the role of a woman who took her family to Africa to help save the animals, but in affect lost those most precisous to her.
---
In August 2000 Kim's latest film Bless The Child opened and on a sad note, in December 2000, not long after her birthday, Kim and Alec announced that they were seperating. Let's just hope all of them, especially Ireland, pull through this.
---